Vishnu Hindu God Retro Vintage Teacup by leighswiccanboutique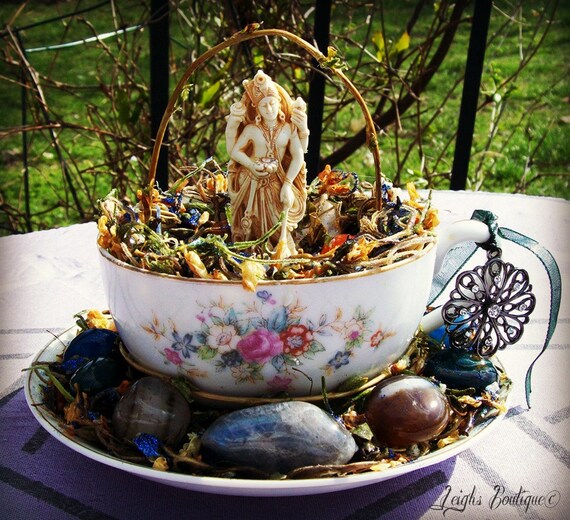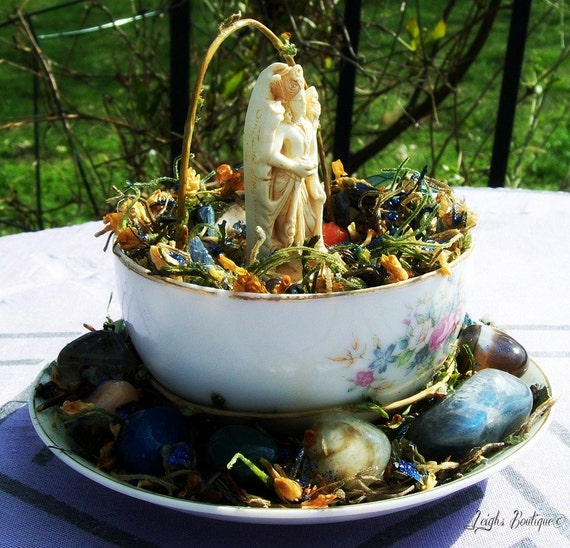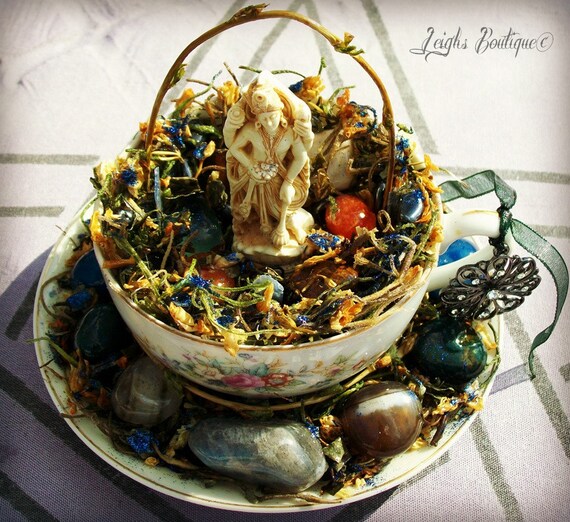 My newest Creation I present to you a handcrafted Hindu God Vishnu Altar Shrine.
♥ Vishnu (also known as Narayan) is the Hindu deity who protects the universe and all of its beings. He is believed to have visited the earth ten times as avatars, or incarnations, to save the world from destruction. This statue shows Vishnu in his classic regal pose, standing straight and tall and holding his four attributes: the conch, the club, the lotus and the wheel. Vishnu, whose name means "All-Pervading," is the protector of the world and the restorer of moral order (dharma). He is peaceful, merciful, and compassionate. To Vaisnavites, Vishnu is the Supreme Lord.
♥ I decided to make these adorable statues using crystals herbs, resins, oils and an old porcelain tea set I had. This tea set has been sitting for years just collecting dust so I decided to give them a purpose.
This Teacup and Saucer is from the 1930's - 1940s and made in China with dainty flowers, and gold leaf. These China tea cups and saucers are pretty expensive for just 1 set and are prized collectibles! I have had them in my own personal collection for 10+ years.
♥ The inside and around the base is adorn with the stones of Kyanite, labradorite, Axinite, Smokey Quartz, Carnelian, Citrine, Moonstone, Tiger Eye, Banded Onyx, Blue Onyx, and Fluorite. It also contains the Herbs of Jasmine Flower, and Mother Mary's Herb. Vishnu stands underneath the branch of Willow, and Willow also wraps along the bottom of the tea cup. The Handle bestows a beautiful flower the symbol of Life and Love.
♥ This Vishnu Shrine has also been infused with my own personal Essential Oil blend of Life Force. This oil was made under Storm Moon and created with a very very rare EO oil, and resin used by many of faith during meditation, and for spirituality. That rare Resin I speak of is known as Agarwood which is prized by the monks, and many other cultures for its balancing affects, and representation of life itself. From the Hearth Wood it comes only after the tree suffers from disease it emits this wonderful scent which this oil comes from. It takes over a 100 years to produce, but unfortunately the tree in the end dies, which symbols the circle of life. During the creation of this oil it was powered by a Boji Stone for Balance of the human Body, and a powerful Gray Quartz stone which sits in the main jar of the uncut oil base. It is also blended with Moldavite oil containing real Moldavite, along with some other secrets inside.
Jasmine: This herb is known for being the perfect herb to charge and energize Crystals disposing of negative unwanted energy within them, and known to promote love and peace.
The Herb of Mary aka Jerusalem Cowslip: This herb has the powers to heal, retain youth, Distract unwanted vistors, Protection, Ward off Evil Magic, and Spirits. Many people hold this herbe as sacred. The flowers are gathered and used in the home for protection. This is an excellent herb for increasing one's skills at keeping a mental focus whilst sustaining concentration during any ritual work.
Willow Tree: The Willow is the tree most associated with the moon, water, the Goddess and all that is feminine. It is the tree of dreaming, intuition and deep emotions. Symbolically it belongs to the beginning of spring, when all of life is stirring in the depths and begins to shoot outwards once again. In the ogham alphabet, the willow is Saille which became anglicised to "sally" which means a sudden outburst of emotions, action or expression (to "sally forth"). The Old French "saille" also means to rush out suddenly and the Latin "salire" means to leap. This is the underlying energy of the willow, and the key to understanding the powerful spirit of this beautiful tree. The willow has much to teach us in its associations with our feminine aspects. has always been known as a tree of dreaming and enchantment, and it was associated in Celtic legend with poets and with spells of fascination and binding. This is the willow moon energy, which puts us in touch with our feelings and deep emotions, and it is the ability of the willow to help us to express these, let them out, own them and charge them in fantastical leaps of inspired eloquence and understanding. Our deep unconscious thoughts speak to us through our dreams. If you have lost touch with your dreams or wish to increase their potency, make yourself a willow wand and sleep with it under your pillow. You will find your dreams will immediately become more vivid and meaningful. Studying your dreams, writing them down, opening your intuition to interpreting them can lead to healing emotional problems and releasing tensions in your life.
Stone Metaphysical Properties can be found on my blog at:
http://www.mandileighs.blogspot.com/
Everything is permanently attached together including the teacup to the saucer, and sealed.
♥ FYI! ♥ Shipping is Based off like Products sold and shipped. Over payment in shipping of 1.00 or more is always refunded to the buyer!
As with any spell work, it is your Intention, Energy, Belief, and Focus that sparkles the final outcome of your magic.
Blessed Be
Find more whimsical gifts listed at:
http://www.etsy.com/shop/leighswiccanboutique?section_id=6978564